Historical Journal
Students will create a historical journal from a fictional character's point of view.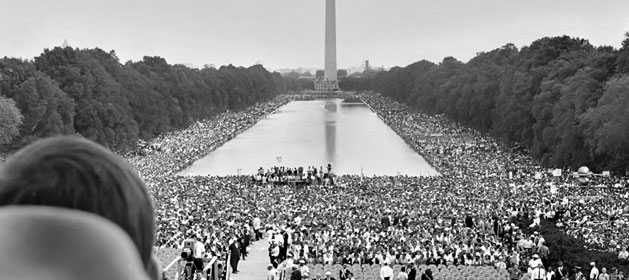 Task
When we think about the Civil Rights Movement, we often focus on the progress toward equality for African Americans. There have also been movements toward equality before the law for many different groups.
Your local history museum would like to include journals from the Civil Rights era for their history and culture virtual exhibits to interest kids in equal rights before the law. Your task is to create a historical journal from the perspective of an individual who might have been faced with indifference during a movement for civil rights.
Engage
"Those who cannot remember the past are condemned to repeat it..."
—George Santayana
Historical research comes alive when students explore a range of alternate genres instead of writing a traditional research report. Using journal writing as a learning method requires learners to reflect on new information, and promotes critical self-reflection when evolving worldviews are challenged.
Many students will have already read "The Diary of Anne Frank," while others may have read or seen the movie, "Diary of a Wimpy Kid." Explore examples of diaries, journals, and family scrapbooks. Let students know that they will explore one group's move toward civil rights by creating a fictional historical journal.
Students are probably most familiar with the African American civil rights movement in the United States. This movement was characterized by nonviolent marches, speeches, and campaigns that were often met by a very violent response. As a class, explore important events in the African American journey toward civil rights. Ask students what it might have felt like to be on both sides of this movement.


Ask students to brainstorm other movements for civil rights. Four example:
Gender / Equal Rights Amendment
Chicano Movement
LGBT
American Indian Movement (AIM)
Have students choose a movement to research and explore further. Have them complete a Venn diagram to compare events in these movements with events in the African-American civil rights movement. Encourage critical thinking and allow students to come to their own conclusions about these events.
Create
As they start to complete research about a movement, ask students to develop a fictional character from which they will write their perspective. Have students list character traits for this person and create a character analysis focusing on the events in the civil rights movement they are studying. Things to consider for the character include:
The 5 W's
The character's actions in response to the outcome an event
The character's emotional state during this time of oppression
Effects of the character's behavior on other individuals (family, friends, community members, etc.) during this time
The character's fears of what might happen if things do not go according to plan
Once the character analysis is complete, students should prepare an exciting script for their historical journal including:
Three events that take place in the movement
Vivid descriptions each of these events
Narration of these events from the perspective of their character
An interesting hook to use to introduce the character
Students can take these resources and combine them into a rough draft of the journal entries. Have students share their drafts with a peer for feedback and make appropriate edits.
Have students translate their writing into a visual map or storyboard that includes information on which portion of the journal each page or frame will include. Students should also identify images and sound files they will use to support each entry. Have students add the text for their journal entries to different frames or pages in Share.
Give students an opportunity to find images, music, and sound effects that will support their script and storyboard. They may want to explore the collections at the Library of Congress. They can also add copyright-friendly images from Pics4Learning using the Library in Share or Frames. Students can also use the drawing tools to create their own illustrations.
Share
If students are creating the historical journals in Share, have a school-wide gathering where students present their journals. You might choose to include them in the library by printing the journals or creating an interactive civil rights research kiosk.
If students are creating videos in Frames, play them on the morning announcements. If students have used media that is copyright-free, submit their work to museums of tolerance and civil rights. Share your students' work to help bring awareness of the civil rights movement to others!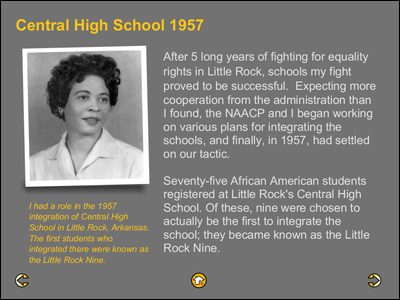 Assessment
The final historical journal is a great summative assessment for student skill communicating in a visual medium. During the process, you can assess their progress using their Venn diagram and character analysis planning sheets. Having students turn in their scripts and storyboards prior to creating the historical journal on the computer will help make sure they are on the right track during the process.
Resources
Landau, Elaine. The Civil Rights Movement in America ISBN-10: 0531187659
Wikipedia – Civil Rights Movements http://bit.ly/eIh6vl
Historical Journals and Diaries http://bit.ly/dysp7V
Diary of a Wimpy Kid http://bit.ly/zGgsp
Standards
Common Core
Standards for the English Language Arts
Write informative/explanatory texts to examine a topic and convey ideas, concepts, and information through the selection, organization, and analysis of relevant content.
Write narratives to develop real or imagined experiences or events using effective technique, relevant descriptive details, and well-structured event sequences.
Draw evidence from literary or informational texts to support analysis, reflection, and research.
National Curriculum Standards for Social Studies
Explain how information and experiences may be interpreted by people from diverse cultural, perspectives and frames of reference.
Analyze and explain the ways groups, societies, and cultures address human needs and concerns.
ISTE NETS for Students 2016:
3. Knowledge Constructor
Students critically curate a variety of resources using digital tools to construct knowledge, produce creative artifacts and make meaningful learning experiences for themselves and others. Students:
a. plan and employ effective research strategies to locate information and other resources for their intellectual or creative pursuits.
b. evaluate the accuracy, perspective, credibility and relevance of information, media, data or other resources.
c. curate information from digital resources using a variety of tools and methods to create collections of artifacts that demonstrate meaningful connections or conclusions.
6. Creative Communicator
Students communicate clearly and express themselves creatively for a variety of purposes using the platforms, tools, styles, formats and digital media appropriate to their goals. Students:
a. choose the appropriate platforms and tools for meeting the desired objectives of their creation or communication.
b. create original works or responsibly repurpose or remix digital resources into new creations.
d. publish or present content that customizes the message and medium for their intended audiences.