Five Senses Poetry
Students write a five senses poem to share information about a favorite place or topic they are exploring.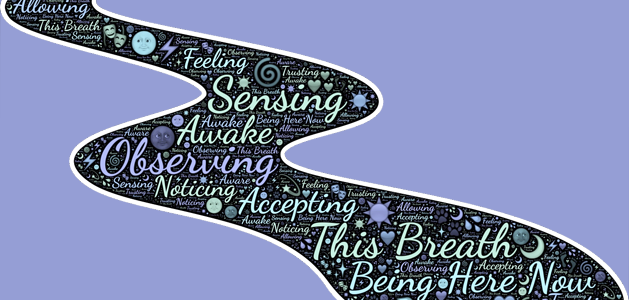 Task
We use our five senses to explore the world. Thinking about your five senses can help you better describe things so that the reader's senses come alive through your words.
In this lesson, students write a five senses poem to share information about a place they have visited or a topic they are studying.
Engage
Introduce your students to their five senses using a range of activities that engage them all.
Kick off your five senses unit with a fun story like Rachel Isadora's, I Hear a Pickle. Follow with a play-based center that allows for individual and small-group experimentation and exploration using all five senses:
See - objects with different colors and shapes, like marbles, interlocking bricks, solid and patterned paper, or fabric.
Hear - objects that make noise on their own or can be used to make noise, such as tambourines, maracas, and jingle bells.
Smell - objects that have scents embedded in them, such as scratch and sniff stickers, Smencils, lavender and rosemary sprigs, or perfume sticks.
Touch - objects with different textures, like textured board books, velvet, leather, sandpaper, and feathers.
Taste - objects that taste sweet, sour, and salty and are safe to eat, like lemon rings, pickles, crackers, and grapes.
If you can find objects that connect to more than one of our senses, create a bin of objects and ask students to sort them by sense. This isn't about finding a "correct" answer, as much as getting students discussing and thinking about their senses.
Continue explaining each sense with informational texts like Aliki's My Five Senses or with a video or song.
Observation is the foundation of the scientific method and our five senses enable us to make a range of different observations about the world around us.
Go on a "sense" walk with your students outside the school building or to a local park. Model how to describe your observations using all five senses. Then, ask your students to describe what they see, hear, smell, touch, and taste.
You might also describe something you see, such as a tree. Challenge your students to name other things they see. Try to make the list as large as possible. Complete a similar challenge for the other senses too.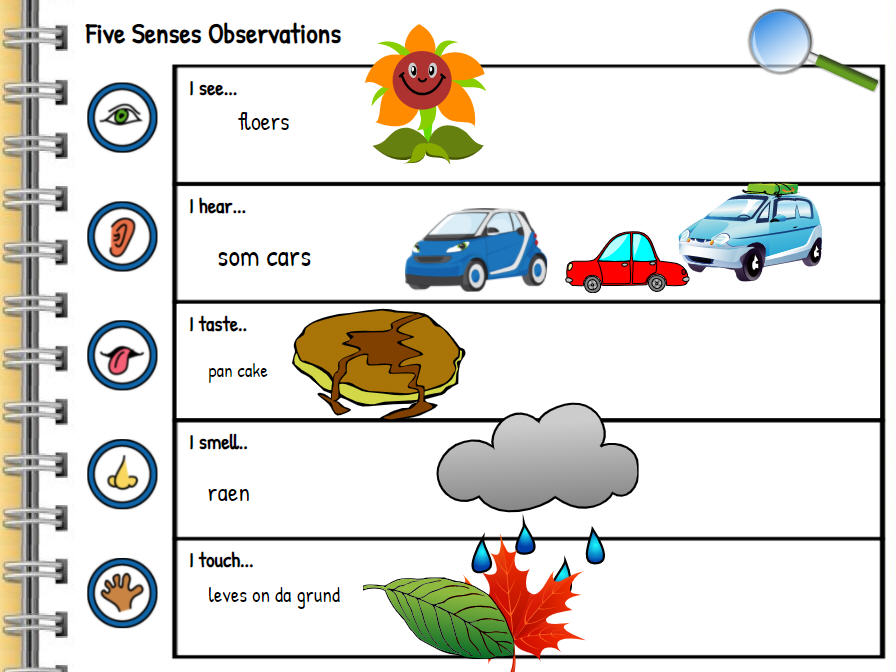 Have students take along blank paper, a tablet device, or worksheet, to capture observations using all five senses.
When you return to the classroom, talk to your students about using their five senses in their writing as well. For example, your students may have seen a tree. Was it tall? Covered in green leaves? With smooth or rough bark?
Create
Because we experience the world through the five senses, writers use the five senses to add details that make a scene come alive for a reader.
Writing a five senses poem can help students begin building this skill.
Start by having students write a five senses poem about the things they noticed on the senses walk. Young writers can simply write (or spell phonetically) the name of the object they identify using each of their senses.
Build on student writing by encouraging your emerging writers to use descriptive colors and number sight words they may already know. This is a great time to create a descriptive word wall students can refer to as they write.
You can also use five senses poems for a creative approach to sharing information and retelling facts and details from texts students have read or that you have explored together.
Because they can't simply copy and paste information, a five senses poem really gets students thinking about the content they are reading or learning.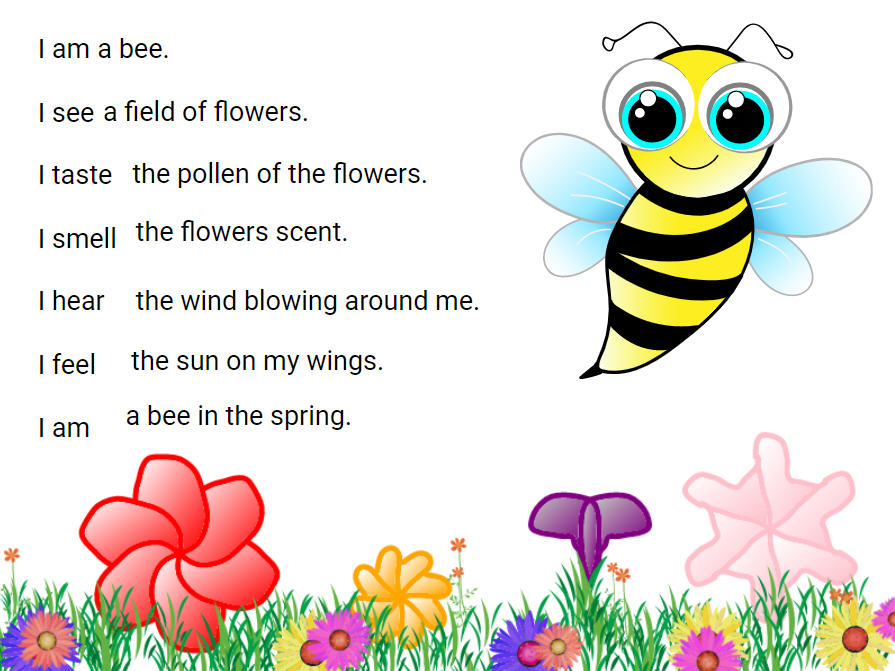 You can also use a five senses poem to practice empathy and voice by having students take on the perspective of the person or animal they are writing about.
If you are using a digital tool, like Wixie, have students use the microphone to read their poem adding intonation and inflection to further show off the character (narrator) of the poem.
Share
Print each student's poem to display in your classroom. If students have recorded themselves reading their poems, showcase them for the entire class or during a parent celebration.
If students have written a five senses poem to describe a place you visited together on a field trip, have each student present their work to the class so that students can benefit from a myriad of different memories of the same event, and see and hear how students used many different words to describe it.
If students used five senses poems to describe information they learned about different animals or plants or people, combine their work together to publish a class book.
Programs like Wixie allow you to easily combine pages from different students and export work as a range of products, like eBooks, PDFs, and movies. Share these with families so they can both enjoy their own child's writing, as well as learn new things by reading through all the poems together.
If you want a book students can touch, upload images of each student's poetry to a photo sharing site. Use the site's tools to combine the images and order a printed book.
Assessment
As your students learn about their five senses through books, videos, and nature walks, you can begin to evaluate their understanding as they talk and write about the things they see, hear, smell, taste, and touch.
Their discussions and writing will also give you a sense of how many adjectives students know and can use to describe the things they have identified with their senses.
Retelling by sharing information in a five senses model requires students to think more deeply and exercise creativity, not just copy and paste. So if you are writing poems about topics you are studying, you will be able to evaluate how well students can take information they learned and retell it without simply repeating facts and information verbatim.
The five sense poem provides clear expectations for the content of student writing. Use a checklist or rubric to get students thinking about using descriptive words, effective images, and even punctuation.
Resources
Rachel Isadora. I Hear a Pickle (and Smell, See, Touch, and Taste It, Too!).. ISBN: 1338141546
Aliki. My Five Senses.. ISBN: 006238192X
Learn Bright - Five Senses for Kids - YouTube video
Generation Genius - The Five Senses
Standards
Common Core State Standards for English Language Arts:
CCSS.ELA-LITERACY.W.K.2
Use a combination of drawing, dictating, and writing to compose informative/explanatory texts in which they name what they are writing about and supply some information about the topic.
CCSS.ELA-LITERACY.SL.K.4
Describe familiar people, places, things, and events and, with prompting and support, provide additional detail.
CCSS.ELA-LITERACY.SL.K.5
Add drawings or other visual displays to descriptions as desired to provide additional detail.
CCSS.ELA-LITERACY.SL.K.6
Speak audibly and express thoughts, feelings, and ideas clearly.
CCSS.ELA-LITERACY.W.1.2
Write informative/explanatory texts in which they name a topic, supply some facts about the topic, and provide some sense of closure.
CCSS.ELA-LITERACY.SL.1.4
Describe people, places, things, and events with relevant details, expressing ideas and feelings clearly.
CCSS.ELA-LITERACY.SL.1.5
Add drawings or other visual displays to descriptions when appropriate to clarify ideas, thoughts, and feelings.
ISTE Standards for Students:
6. Creative Communicator
Students communicate clearly and express themselves creatively for a variety of purposes using the platforms, tools, styles, formats and digital media appropriate to their goals. Students:
a. choose the appropriate platforms and tools for meeting the desired objectives of their creation or communication.
b. create original works or responsibly repurpose or remix digital resources into new creations.
d. publish or present content that customizes the message and medium for their intended audiences.